Aubergine & Chicken Parmigiana
a comforting tray bake with mozzarella and tomato
90 min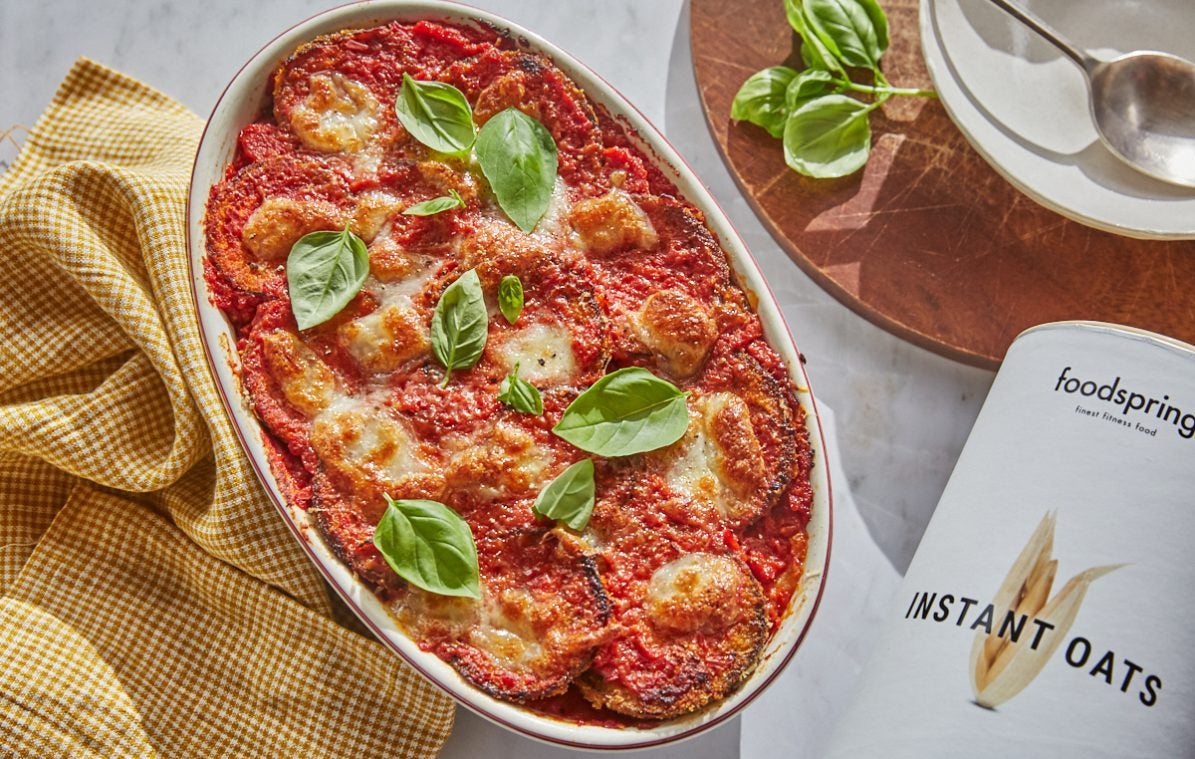 This high-protein dinner is a cross between aubergine and chicken parmigiana to make a cheesy, rich traybake. The aubergine slices are baked, not fried, and coated with instant oats for a fibre boost. These are layered up with shredded chicken, melty mozzarella and salty Parmesan then baked until bubbling.
Instant Oats

garlic granules
salt
egg

aubergines, cut into 1cm thick coins

olive oil

red onion, diced

chopped tomatoes

light mozzarella, torn into small pieces

cooked skinless, boneless chicken breasts, shredded

Parmesan cheese, grated

fresh basil leaves
Preparation
1

Preheat the oven to 180C/350F fan (200C/400F non-fan). Take 2 large baking trays and brush each one with ½ tbsp of olive oil then set aside.

2

Mix the instant oats, garlic granules and a pinch of salt in a wide, shallow dish. In a separate wide, shallow dish, beat the egg with 2 tbsp of water using a fork.

3

Take each slice of aubergine and dip into the egg, turning to coat. Next, dip into the instant oats, turning to coat then tap off any excess so the coins are lightly coated. Place onto the oiled baking trays until you've coated all the slices. Drizzle each tray of aubergine with ½ tbsp more olive oil.

4

Bake the aubergines for 30 minutes, flipping them over around halfway through the cook time. They should look lightly golden and be soft throughout.

5

As the aubergines are baking, make the tomato sauce: Heat the final 1/2 tbsp olive oil in a medium pot over a medium heat. Add the diced onion and a pinch of salt. Cook, stirring occasionally until softened and slightly translucent – around 8 minutes.

6

Stir in the chopped tomatoes, swilling out the cans with a bit of water and adding that to the pot too. Bring to a simmer then turn the heat down to low and cook until the sauce has reduced by around half and is quite thick.

7

Layer and bake: Spoon a small amount of tomato sauce into the base of a deep 9 x 9-inch roasting dish. Cover with a layer of aubergine coins, followed by ¼ of the shredded chicken, ¼ of the tomato sauce, ¼ of the torn mozzarella, a few basil leaves and ¼ of the parmesan cheese. Repeat until you've used up all of the ingredients.

8

Bake for 25-30 minutes until the cheese has melted and is starting to turn golden. Allow to cool for 10 minutes before slicing and serving.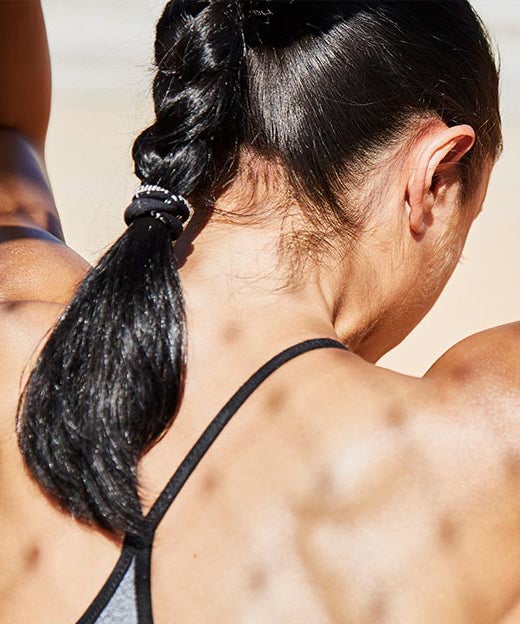 Free Body Check
Want to improve your nutrition? Our Body Check will help!
Personal BMI Calculation
Helpful nutrition advice
Products to help hit your goal
Get started
Read more about
Related:
Recipe Overview
Nutritional value, per portion