The 7 Nuts with the Highest Protein Content
Some nuts are real nutritional bombs Do you know what our favorites are?
4 min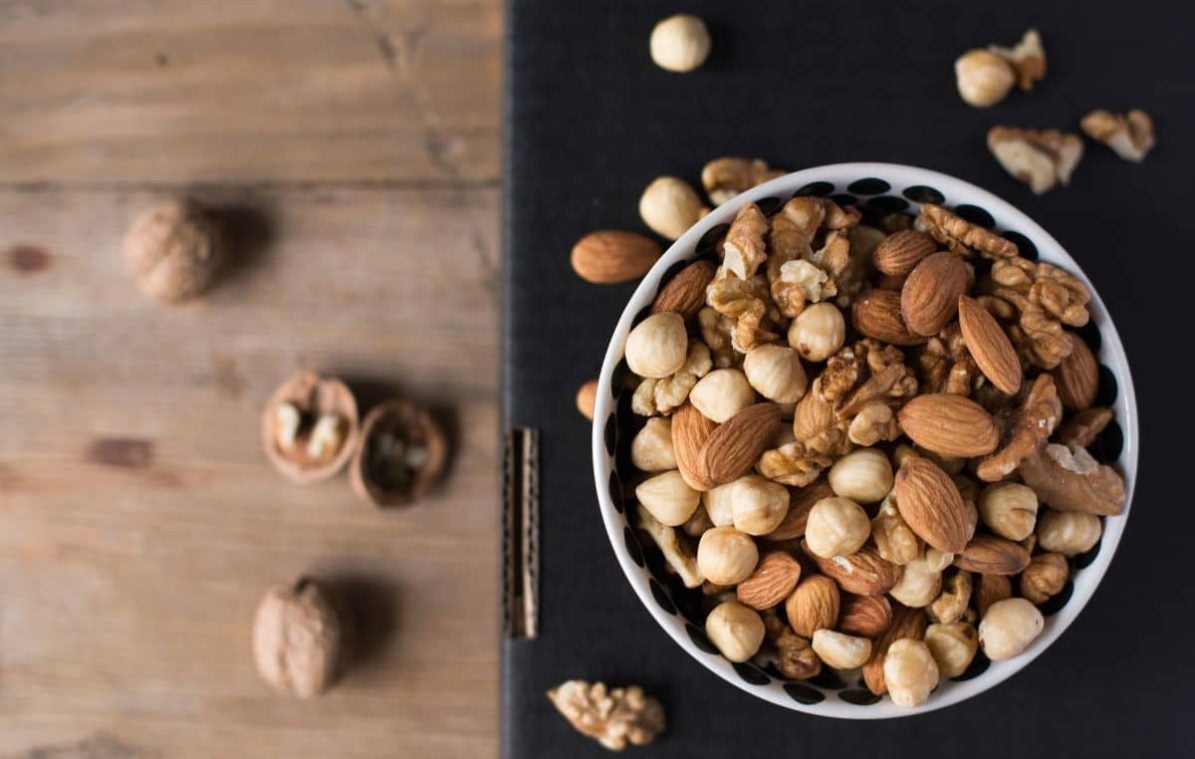 Walnuts, almonds, pistachios, hazelnuts…the list of nuts is as long as it's varied and delicious. Can you think of a tastier, healthier way to slay that little demon that tempts us between meals to put the first thing we can grab into our mouths? As well as being rich in healthy fats, nuts are also a great source of vegetable protein, making them a must in vegetarian and vegan diets. They are also perfect for those of us looking to lose weight or increase muscle mass. Nutritional gems that we ought to make the most of.
And no, you definitely don't have to worry about getting fat by eating nuts. Contrary to popular belief, and as we can see in this study published in The American Journal of Clinical Nutrition: "nut-rich diets do not increase body weight, body mass index or waist circumference compared to control diets". Science has also taken it upon itself to tell us about their numerous health benefits. For example, this other study from 2017, highlights that nut intake can prevent risk factors related to chronic diseases, such as changes in glycemic and lipid metabolism, oxidative stress and inflammation. The same study points out that nuts are rich in protein, fiber, vitamins, minerals and bio-active compounds with antioxidant potential. In short, nuts are like little nutritional pocket rockets that concentrate a load of essential nutrients.
All these properties mean that nuts and dried fruit are little treasures in our diet. However, be sure to always eat them unprocessed, or roasted, at the most. Forget the versions with salt, sugars and other unhealthy forms. The best thing to do is to make our diets varied, alternating the consumption of different types of nuts, as not all of them have the same benefits. Because they're so rich in quality vegetable protein, they are the secret to reaching your recommended daily protein intake. To give you a hand, we've compiled a list of the seven most protein-rich nuts and some great ways for adding them to your daily diet.
Peanuts
Technically peanuts are legumes, but we're going to regard them as a nut, as they're very similar in terms of nutrients and how we consume them. They have more than 25 grams of protein per 100 grams, which puts them at the top of our list. The best way to eat them? Buy them in their shells so that you can spend time opening them and eat them fresh. A good idea is to eat them as peanut butter, like the option from foodspring, which has up to 350 organic peanuts in each jar and no additives. Plus it's delicious!
Almonds
A classic snack. With or without their skin, almonds provide between 18 and 20 grams of protein per 100 gr. A study published in Food and Nutrition Sciences observed that people who eat almonds regularly have a lower body mass index, in addition to a lower waist circumference. Raw almonds are already crunchy and tasty, but if you want to boost their flavor you can choose them roasted and have them on hand for snacking between meals. Almond flour can be a great gluten-free substitute for some baked goods, and even for making pizza dough or pancakes. If you can't find unsweetened almond butter in the supermarket, make your own. Put a couple of handfuls of toasted almonds in a food processor or blender with a pinch of salt and flavorings like vanilla extract or cinnamon. If you want it a little sweeter, add a small amount of honey or maple syrup. Beat until the almonds become buttery, scraping the sides of the bowl at least once a minute, and letting the machine rest if it overheats. Then leave it in the fridge to chill.
Pistachios
With between 17g and 19g of protein per 100g, pistachios are unbeatable for replenishing energy between meals, or simply as a snack at any time of the day. They're super tasty, smell great and are both natural and delicious! Plus, their distinctive, appetizing green color makes them unique.
Cashew nuts
The star of vegetarian and vegan menus! Cashew nuts inspire true passion, both in their natural form and when used as an ingredient for sauces and meals, as well as for their ability to replace dairy products, creams and butters. They provide us with an amount of protein that's very similar to that of pistachios, with about 17g of protein per 100g. Try making your own vegan cashew cream with 'cheese'. Soak the cashews overnight and mix them with nutritional yeast, non-dairy milk such as almond milk, and spices such as garlic powder, turmeric, smoked paprika, salt and freshly ground black pepper.
Walnuts
With 15g of protein per 100g, raw walnuts are also a source of fatty acids and omega 6, which makes them great allies against cardiovascular diseases, as explained in this study published in the Journal of Nutrition. Nuts are soft because of their high fat percentage and are a classic for adding an extra touch to salads and breakfasts. They are also found in Indian cuisine and in many vegetarian dishes.
Hazelnuts
Hazelnuts contain between 12 and 15g of protein and, despite being difficult to open, are delicious. We already know that they go perfectly with chocolate, and the best proof is the delicious protein cream from foodspring, as well as its vegan version. Chopped hazelnuts are a key ingredient in sauces and pestos.
Brazil nuts
This kind of mixture of giant almond and walnut provides a similar amount of protein to that of the hazelnut, and is also notable for its selenium, magnesium and vitamin E content. They aren't particularly common in Spain, but are slowly but surely becoming more available, plus their large size makes them perfect for carrying with you to eat anywhere, any time. They're used in recipes for desserts, ice cream, confectionery, sweets, cakes, etc…
How many nuts per day can I eat?
The amounts of protein in nuts that we've mentioned are in relation to 100g, but eating that much of any nut is not a good idea. Although they are healthy, they're still very high in energy and if you eat too many of them, they can make you sick! The Heart Foundation recommends three to seven servings a week, taking into account that a serving would be between 20 and 30g of nuts. That's more or less a handful, or what fits in one hand.
Learn more about this topic at foodspring:
Sources for this article
We at foodspring use only high-quality sources, including peer-reviewed studies, to support the facts within our articles. Read our editorial policy to learn more about how we fact-check and keep our content accurate, reliable, and trustworthy.